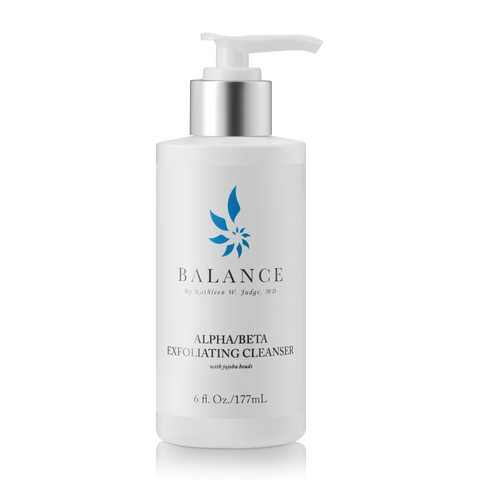 Alpha Beta Exfoliating Cleanser
Our Best Selling Cleanser
This deep cleansing formula contains Alpha and Beta Hydroxy acids as well as Jojoba beads that will gently exfoliate your skin. It is particularly effective for treating acne-prone skin because it unclogs pores, reduces blackheads, and can be used in combination with your retinoid treatment. Our Alpha Beta exfoliating cleanser is also beneficial if your skin is exhibiting signs of premature aging and/or sun damage.
USE: Gentle enough to use every day. Apply to your face and neck in a circular motion. Rinse thoroughly with cool water.
KEY INGREDIENTS: Glycolic Acid, Salicylic Acid, Lactic Acid, Jojoba Beads
Two Month Supply*
*Supply is an estimate assuming once a day use with one pump per cleanse. There are approximately 80 pumps per bottle, so each bottle should last longer than 2 months.