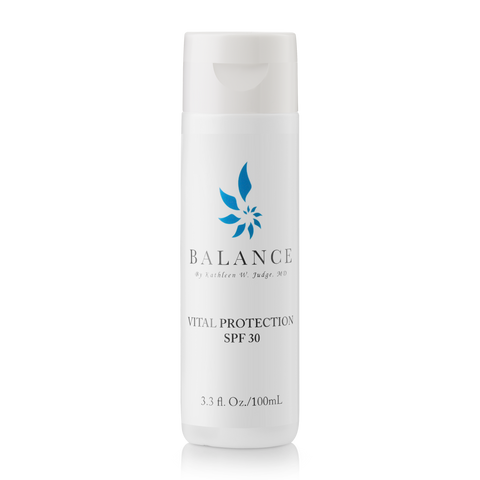 Vital Protection SPF 30
Designed as a powerful sunblock for everyday use, this sunblock is not absorbed in the skin and can be used even on sensitive skin types. This sunblock provides active UVA and UVB protection with ingredients such as octyl methoxycinnamate, octyl salicylate, and benzophenone-3, as well as micronized zinc oxide that provides extra protection. This sunblock is unique because it also contains antioxidants and compounds that will nourish and strengthen the skin.
USE: Apply this advanced SPF on thoroughly cleansed skin. Light enough for oily skin. Reapply as needed to maintain the SPF 30 protection, especially after exercise, sport activities or swimming. Also recommended after Micro-dermabrasions, laser treatments, and chemical peels.
KEY INGREDIENTS: Zinc Oxide 7% (Z-Cote), Octinoxate 7.5%, Octisalate 5%, Japanese Green Tea Extract, Gingko Biloba, Ginseng, Licorice Extracts