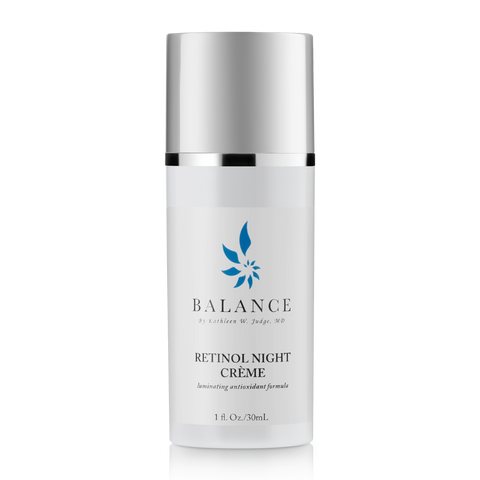 Retinol Night Crème
This unique Retinol encapsulated delivery system provides maximum release with reduced irritation typically associated with retinoid use. Retinol diminishes the appearance of fine lines and deep wrinkles by stimulating collagen production. Additionally, Retinol stimulates cell regeneration to enhance skin tone and texture and reduces the appearance of discolorations, age spots, and occasional blemishes.
Use: For Nighttime use only. Cleanse and apply to face, neck, and hands. Start by applying every third night for a week. Then apply every other night. If irritation develops, reduce frequency. DO NOT USE WITH RETIN-A OR ACCUTANE.
Key Ingredients: Retinyl Palmitate (Vitamin A - helps increase the skins elasticity, and normalizes dry, parched skin)*, Palmitoyl Pentapeptide (Matrixyl - Reduces deep wrinkles and wrinkle density, also increases lifting effect)*,Daisy Extract (reduces melanin formation and shows anti-oxidative properties)*, Licorice Root Extract (natural antioxidant and brightening ingredient), Tetrahexyldecyl Ascorbate (Vitamin C - helps fight free radical damage and also fights redness and puffy eyes by acting as an anti-inflammatory), Yeast Extract (stimulates the skin's immune system), Tocopherol (antioxidant that protects the skin from free radical damage). 
*clinical studies show